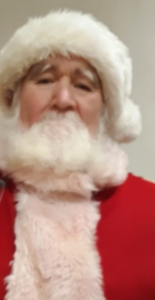 What support looks like during Covid 19?
Heads Up Kildare is an education and training programme for men who are finding life stressful, have issues with unemployment, and wish to learn how to increase their well-being. The programme aims to encourage participants to make positive changes to their lives, develop resilience and offers support to access local services and supports.
Generally the Heads Up programmes are delivered in face to face group work settings across the county. Obviously, this is not possible at the moment, however, we endeavor to offer support to the men who participate on the programme both past and present using all means of communication from phone calls, Zoom, Facebook and even the good old postal system. Today's good news story is inspired by a past participant Damien who completed our programme January 2020.
Damien had recently taken early retirement due to trauma as a result of an accident which affected him both physically and mentally. While the physical symptoms had healed, the psychological ones were proving harder to eliminate, so Damien applied and was accepted on a Heads Up programme in Maynooth. As one of the older men in the group Damien's contributions at all stages were thoughtful, considered and full of wisdom. Damien's fun side was also evident throughout the programme with him coming to group as Santa during Christmas Week. (see photo attached)
Recently, Damien had a challenge, he felt he was hitting a brick wall in relation to his social welfare payment, waiting patiently for a letter to determine his fate, whose priority he assumed had been changed possibly with the onset of the Corona 19 virus. His worries escalated, having a considerable impact on his mental health, all the time he was cocooning and trying to stay safe. As part of our new way of working during these challenging times Damien receives a weekly phone call from the Heads Up team, to check in. Last week on our weekly support call Damien decided to raise his issue with Heads Up Kildare. A subsequent email on his behalf to the D.E.A.S.P. gave him the information he needed to take responsibility and contact the relevant officer.
"It seems", Damien said jokingly today, "that people are not great at reading my mind and that one of the most important things I learned through Heads Up is that of seeking support when needing it. The power of self-advocacy has me feeling as well as I do today. Had this virus happened this time last year I am not sure if I would be doing half as well." 
To Contact Heads Up KIldare  – Call
Niamh on  085 2845871
or
Please see their page on:
https://www.countykildarelp.ie/programmes/headsup/
and their facebook page