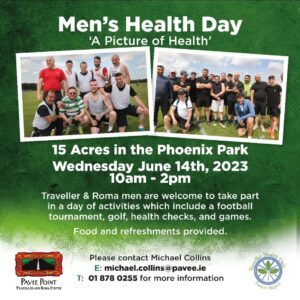 Men's Health day – " A Picture of Health" was held over 15 acres of the Phoenix Park on Wednesday 14th July 2023. Traveller and Roma Men came from all around to enjoy a full day of activities which included, football tournament, golf, Blood pressure and health checks and other fun activities and games.
Food and refreshments were provided for everyone and a great day was had by all.
The Roma Newbridge football team took part in the football tournament, the Social Inclusion Community & Activation Programme (SICAP) sponsored the bus and the jerseys, for the team.
Well done to all the organisers on a very successful day.
And here's a short video from the day :