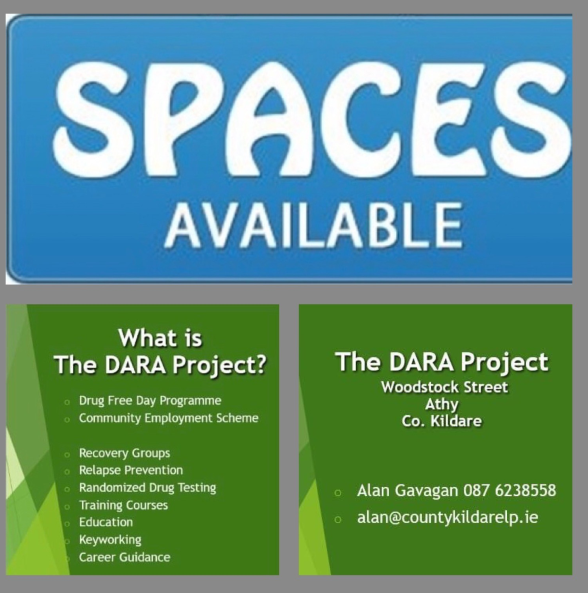 What is The DARA Project?
The DARA Project is drug free Community Employment structured day programme for people in recovery from substance misuse.
It was first established in Sep 2013 and was identified through service user involvement as a need for Co. Kildare. It first operated in Kildare town, yet moved to Athy, Co. Kildare some years ago.
We provide a range of supports to people who have become drug free. We empower each person to reach their full potential. We believe that recovery from addiction is possible for all who seek it. We aim to support, empower and equip each person to live a drug free life. We endeavour to help all our participants become mentally sound, emotionally balanced, socially adjusted, physically well, and spiritually alive.
What does the Programme Entail?
Our structured day programme requires a commitment from each person to engage in their own personal recovery from addiction. It also involves a commitment to participating & contributing to all the activities within programme.
A new participant must be able to give a commitment to attending each day. Our programme schedule is Monday to Friday, from 9.30am – 1.30pm.
What do we Provide?
• Structured Day Programme • Randomized Drug Testing • Group Therapy • Keyworking • Relapse Prevention • Training & Education QQI Accredited • Life Skills Development • Career Guidance • Health & Fitness Activities • SMART Goal Setting • Reflection & Reviews
How are you referred to The DARA Project?
• Addiction Treatment Services • Addiction Counsellors • Community Services • GPs • Irish Prison Service • Probation • Also meet DEASP Eligibility criteria for Community Employment
How do I contact The DARA Project?
Co-Ordinator – Alan Gavagan 087 6238558 alan@countykildarelp.ie
CE Supervisor Kenny Hartnett 087 6718661 kenny@countykildarelp.ie
CE Supervisor Sean Curran 082671065 sean@countykildarelp.ie
The DARA Project Woodstock Street Athy, Co. Kildare R14 W283