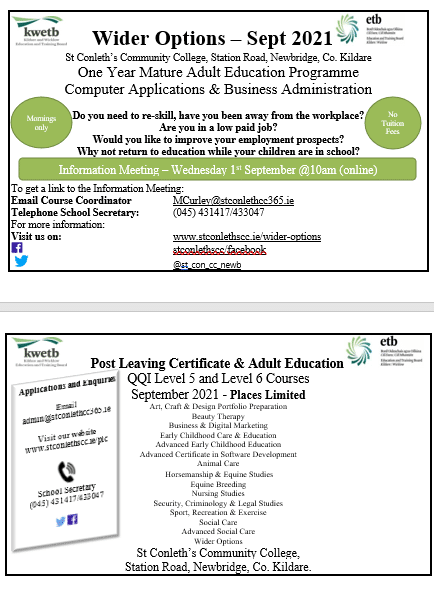 Marian Curley, the Wider Options Course coordinator from St Conleth's Community College Newbridge, has requested we share the information on the upcoming Wider Options Course.
The Wider Options course is a one year programme for people who have been out of the workplace or in low paid employment and wish to upskill, in particular parents who have been working in the home.   
Core classes take place Monday to Friday, 9 to 1pm to facilitate people with school going children. The course leads to job opportunities in roles in offices/Business Administration.  There are no tuition fees for EU citizens. 
Students may be eligible for Back to Education Allowance or to maintain social welfare payments while doing the course if applicable.
There is an Online Information Meeting on Wednesday 1st September at 10 am.  
To get a link to the Information Meeting:
Email Course Coordinator                MCurley@stconlethcc365.ie
Telephone School Secretary:           (045) 431417/433047
For more information:
Visit them on:                                           www.stconlethscc.ie/wider-options